Video Title
Ransohoff TT-180 Parts Cleaning System
Client: Cleaning Technologies Group
Project Brief
Cleaning Technology Group subsidiary Ransohoff has a long history of manufacturing cleaning systems for industrial use. These cleaning systems are used to clean parts that have been through various processes that have left them dirty, oily or otherwise unready for use.
When CTG wanted a video to highlight this high-tech, flexible cleaning system, they spoke with Panoptic Media and we made the combined decisions to use 3D animations as the best way forward. The clean, techy look helps imply that this machine is a superior product. We also elected to skip narration, presenting the most salient points via 3D text. With a fun music track it turns out to be a nice marketing piece.
Visual A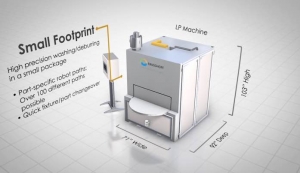 Visual B
Let Us Help You Tell Your Story!
Through Creative Ideas and the Design/Build Process